We don't let you shop online. We believe in the old tradition of human interaction and conversation. Come visit our store for the experience!
brick and mortar // adj; relating to or being a traditional business serving customers in a physical building, only
Brick and Mortar Mercantile, located in the heart of Historic Downtown Leesburg, Virginia, aspires to become the next generation of traditional retail.
In our modern society, the phrase "brick and mortar retail" is slowly becoming a nostalgic term.
We intend to reverse this phenomenon.
At Brick and Mortar Mercantile, we strive to provide you entertainment and an excellent customer experience by offering a non-click and human-interactive way to shop.
COMING SOON! NEW BRICK AND MORTAR STORE DOWNTOWN FREDERICK, MD
The popular response was overwhelming and owners Ben and Tara Wegdam hoped to find another town to help grow this unique concept. "Brick and Mortar Mercantile will feature many U.S. branded gift products for him and her, in addition to home goods products. Think of it as a collection of products that each have a story to tell, that are unique and create conversation," states owner Ben Wegdam.
Brick and Mortar Mercantile takes a new approach, encouraging its customers to leave the web and come back to traditional entertainment based retail. The new store will be located on 29 E. Patrick St. and is projected to open mid October 2019.
Brick and Mortar Mercantile will be a place where you can "just come and hang". You'll be able to grab a light beer, put your favorite record on and/or sit down at the Grand Piano to pretend you're Billy Joel for a few. The atmosphere will truly be inspired by fun - something that we all need a little more of.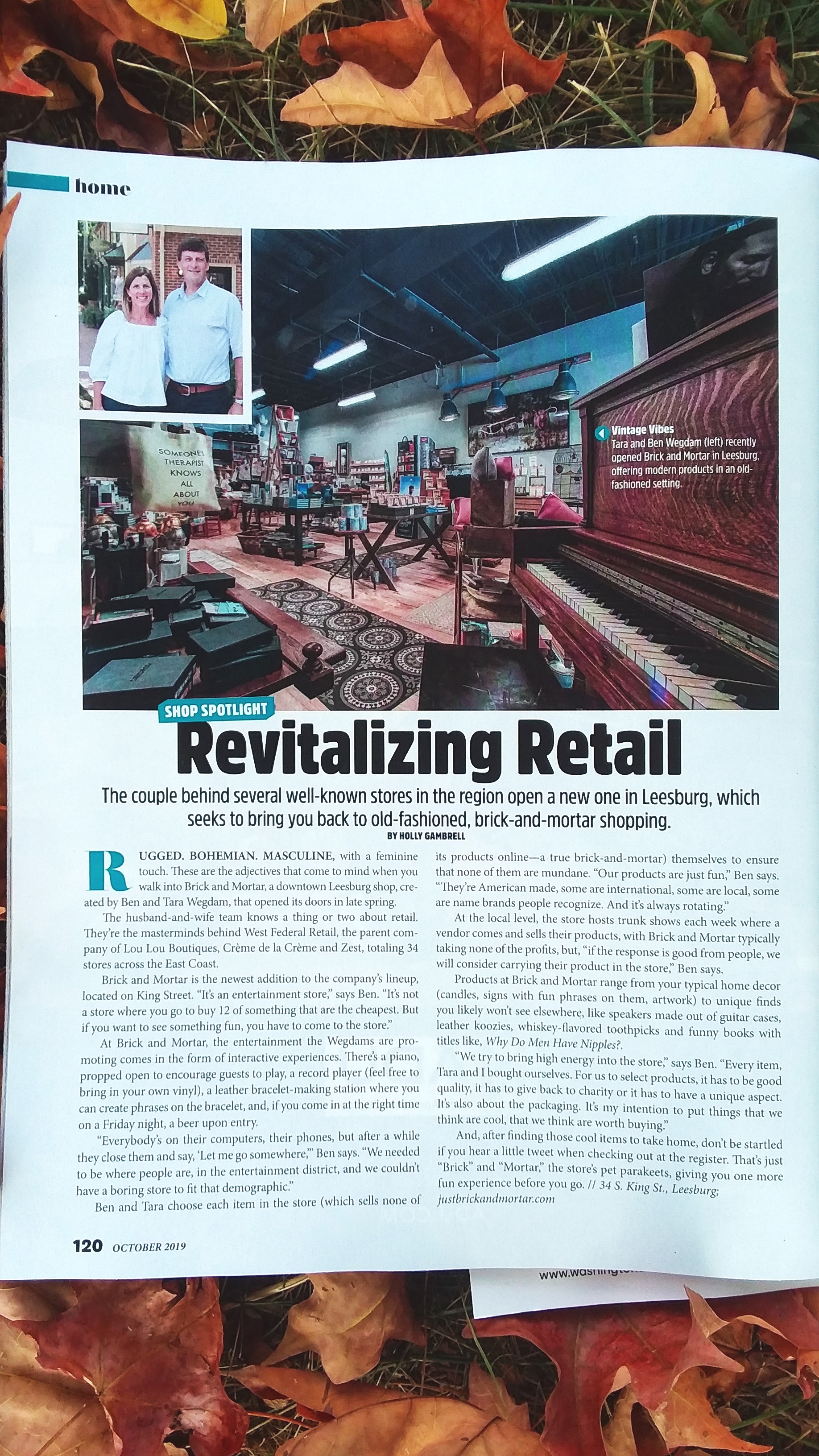 We are honored to be featured in the October issue of Northern Virginia Magazine. Virginia will always be home and we are proud to be a part of the downtown Leesburg community. As stated in the article, it is our goal to bring high energy into the store and create a fun shopping environment that is unparallel in Northern VA.
CELEBRATING
150 YEARS
As it did in 1865, stetson today embodies the resourceful, authentic, and diverse American spirit. Rich in history, the story of stetson continues in step with the journey of america - Ever evolving and timeless.
OUR STORY
Founded in 1865, Stetson was born from the spirit of the West and grew to become an American icon. John B. Stetson's friendly gesture towards a wayward traveler on the new frontier gave birth to what is now known, the world over, as the "cowboy hat." Ever since, Stetson has been a global leader in headwear, a trusted household name around the world, and has become standard equipment for rugged cowboys and western aficionados everywhere.
Stetson continues to create quality products that are built to last and have deep roots in the American tradition. We have a strong appreciation for objects that are made well and products that get better with age. We still craft our hats using much of the same techniques as old John B. did over 150 years ago – with an eye towards meeting the needs of the future generations of frontiersmen, pioneers, industrialists, and enthusiasts. We strive to provide an authentic American experience and tip our hats to great legends in the making.
Born in 1850, C. C. Filson inherited his father's pioneer spirit and love of the outdoors. After homesteading in Nebraska and roaming the country as a railroad conductor, he moved to the small city of Seattle, Washington in the 1890s.
Filson's timing couldn't have been better. By 1897, the Great Klondike Gold Rush was on, and thousands of fortune hunters were stampeding into Seattle, headed north. Armed with a strong work ethic, a reputation for honesty and several years' experience outfitting Pacific Northwest settlers and prospectors, C. C. Filson was ready to stake his claim to fame. Here is what he had to say in our 1914 catalog:
"To our customers: if a man is going North, he should come to us for his outfit, because we have obtained our ideas of what is best to wear in that country from the experience of the man from the North -- not merely one -- but hundreds of them. Our materials are the very best obtainable, for we know that the best is none too good and that quality is of vital importance. You can depend absolutely upon our goods both as to material and workmanship."
WHAT WORKED THEN, STILL WORKS NOW
Over the years, Filson's philosophy has never changed: Make sure it's the absolute best. Clinton Filson spent a lot of time talking to his customers and refining his designs to their specifications. So it's not surprising that the items that worked then still work today, over 120 years later. Comfort, protection and durability never go out of style.
Our Story
Shinola is a luxury design brand with an unwavering commitment to crafting products that are built to last—from timepieces to leather goods, jewelry to audio. Founded in 2011, our company operates an in-house watch and leather factory on the fifth floor of the historic Argonaut Building, where a team of artisans hand assembles luxury timepieces and crafts premium leather straps. Through skilled training, we work to create opportunities for our team members and support the local workforce by partnering with legacy companies across the country to manufacture specialty items. With quality at our foundation, we celebrate thoughtful design and the beauty of industry through every product we make.
Commitment To Quality
We believe our products should be thoughtfully designed and built to last. We utilize handmade production processes for our watches, bicycles, leather goods, jewelry and audio because these methods yield an unmatched level of quality. We globally source the best possible components for all our products, and work with a community of independent American manufacturers who share our commitment to using materials of an enduring nature.
Timeless style, authenticity and freedom of expression are the core values of Ray-Ban, a leader in sun and prescription eyewear for generations. Since the introduction of the iconic Aviator model created for the aviators of the United States Army, Ray-Ban has been at the forefront of cultural change, becoming a symbol of self-expression, worn by celebrities and public figures all around the world.
ABOUT DANESON
Toothpicks for people who sweat the small stuff. That's what we do. All natural. American and Canadian made. All good. Daneson has built a following of dinner tables and beautiful characters since 2011.
There's a quote that's fitting to Daneson:
"Beauty is the visible expression of man's pleasure in labour."
It's from an obscure graphic designer named Douglas C. McMurtrie who we think nicely captured what we're about at Daneson. We take pleasure in how we do things and the result is, we've happened to have made the simple toothpick beautiful.
What does this mean?
It means we use American northern white birch. It means we only use real and natural ingredients. It means we work with independent family-owned suppliers. It means for every one tree we mill, one-hundred are planted in its place. Take pleasure in how you do things and good things will come from it.
Downtown
Leesburg, Virginia
A historic district that includes Classical Revival, Greek Revival, and Georgian architecture and dates back to 1757. Featuring a destination of main streets, visitors come to experience a small town, yet modern-day-feel that helps you forget about suburbia only a few miles away. Many of the shops and restaurants are patronized by the commuters who travel everyday to DC. The surrounding area features wineries and horse farms, giving you the opportunity to combine your trip to Leesburg with a scenic mountain view drive.